How do I start a video call?
Employees and managers can start a video call if the employee has an open review or check-in. When you open the review or check-in, you will see a start video call button on the top right next to the save button.
You will then be able to send your employee or manager a link if they haven't logged in yet - this will take them straight into the review/check-in where they can join the call you've started. Once they join, you'll see them at the bottom left.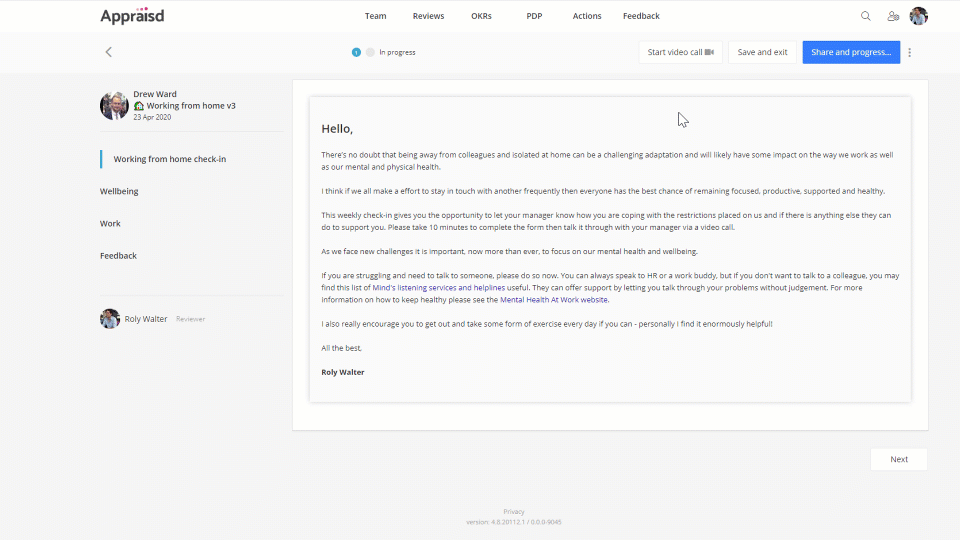 Here you can also control your camera and your microphone. Navigate your way through the review/check-in as usual and add your comments. You'll remain on the video call as you navigate your way around Appraisd.
If you would like more information, watch our full introductory video on this feature.
Security and access
Only people who are part of the review of check-in can join the call - so you need to be the employee, reviewer, 2nd manager or 2nd sign off.
Calls are not recorded. Recording functionality may be added later and will require an additional opt-in step from your main administrator.
Note:
Video calling is an experimental feature and is offered for free to all clients to make it easier to continue check-ins and reviews during the COVID19 lockdown period. For information on the terms and conditions, please see our help page on additional information on video calling in Appraisd.