Sometimes an employee will have a new manager who will need to complete their review but you don't want to lose the previous manager's comments. Here's what you need to consider.
Updating a user's default manager on the People tab won't affect any reviews already in progress, only those going forward. Please see our help page on the difference between People data and Review data.
Before updating the reviewer to the new manager, you'll need to check if the previous manager has added any comments to the review. You can do this by going to the Admin Centre > Reviews tab and clicking edit next to the review in question. The responses field on the pop-up will tell you if the manager has added any comments. If this says 0, you can go ahead and change the reviewer on the review to the new manager.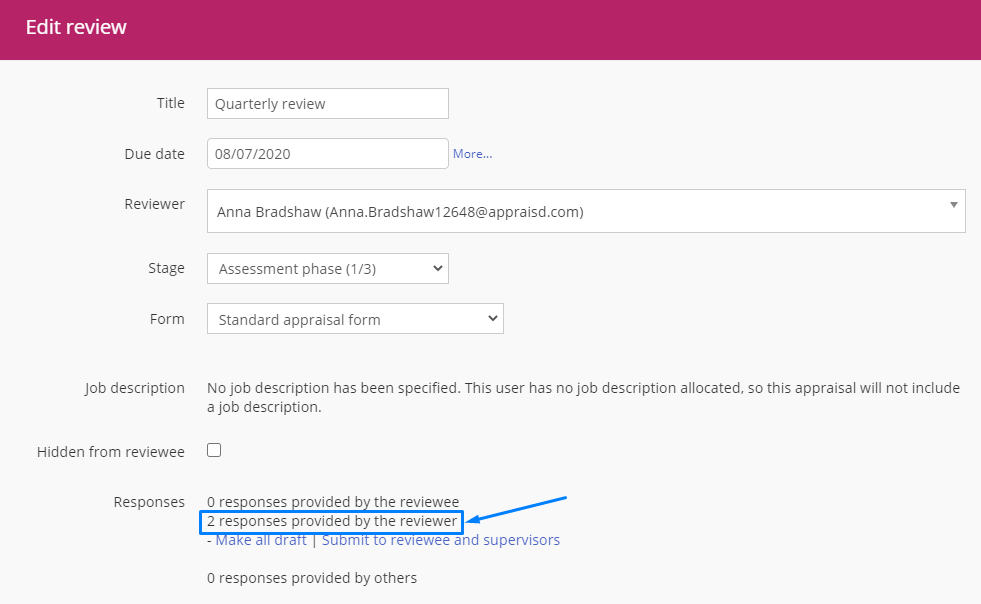 Alternatively, if the existing manager has already added some responses for the review, you have a couple of options:
The previous manager has left their comments in draft
If the existing manager has some responses in draft and the line manager is updated, these responses will be hidden and cannot be submitted. If you'd like them to be visible, 'view as' the previous manager and share their responses before you proceed with the options below. Make sure you have their permission before doing this.
The previous manager has submitted their comments
We advise that you close down these reviews and set-up new ones for the new manager and their team if the previous manager comments need to solely be in read-only format.
Alternatively, if it's necessary for the new manager to add comments on these specific reviews, you can use our second manager feature to add them both onto the review. You can make the previous manager the second manager and the new manager the default manager so that they can close the review. Changing someone from a primary to secondary manager will not affect the visibility of their comments because they are both treated as managers on the review and can answer the same questions.