If your organisation is using a 4-stage workflow, your reviews will have a self-assessment stage, a manager review stage and a reviewee-approval stage. Following this the reviewee will close off the review.
Completing your self assessment

When completing your stage of a review, you can press the save and exit button if you would like to come back and edit or add to your answers. When you are happy with your self assessment and would like to submit your responses to your manager, you can press the Progress button.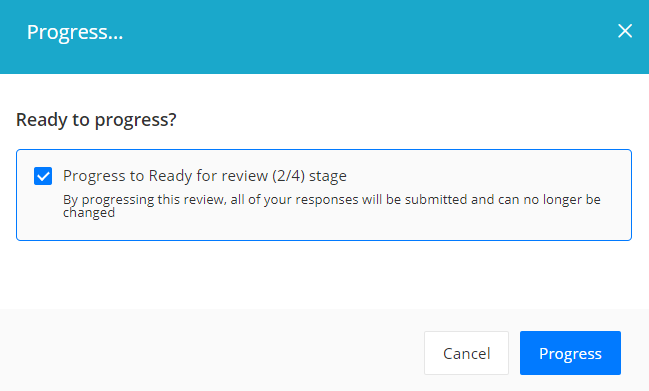 The above dialogue allows you to confirm that you are happy that by progressing your review, you cannot change your answers. If you are happy with this, tick the box and click progress. Your review will now move into the ready for review stage.
Progressing a review as a manager

As in the self assessment stage, you have the option to save and exit if you would like to amend your comments or complete the review at a later date. When you are happy with your responses and would like to share them with your team member and close the review, press share and progress and tick the box confirming that you are happy with submitting the review.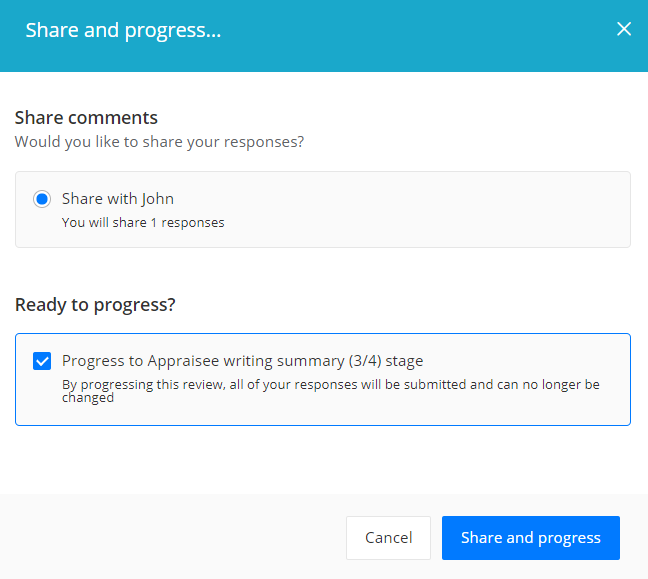 You may choose to just share with reviewee if you would like to add more comments later.
Progressing a review as the reviewee

Once a manager has completed their stage of the review, the reviewee can sign-off on their comments. You may wish to review and confirm the manager's responses and provide some of your own. When you have done so, click on Progress.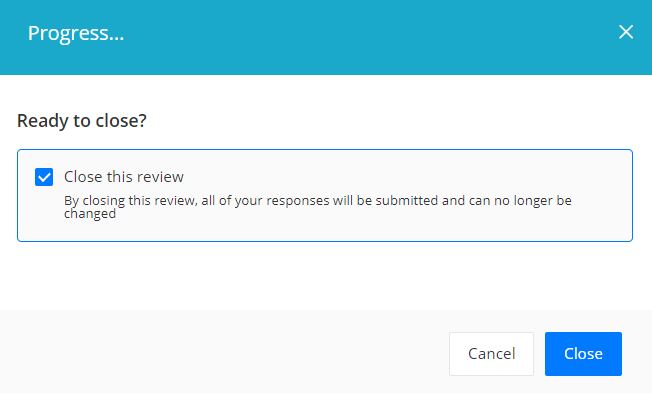 You can then tick the box to close the review. By doing so, all responses will be submitted and cannot be changed.
We advise only closing the review once an in-person meeting has been held and all individuals are happy with the responses provided.