Implementing Appraisd is typically a straightforward process that your Customer Success representative will guide you through. Having done hundreds of implementations before we'll be able to ensure everything goes smoothly.
The timing for each stage can vary greatly depending on the size and complexity of your organisation. Here's an example for a smaller organisation: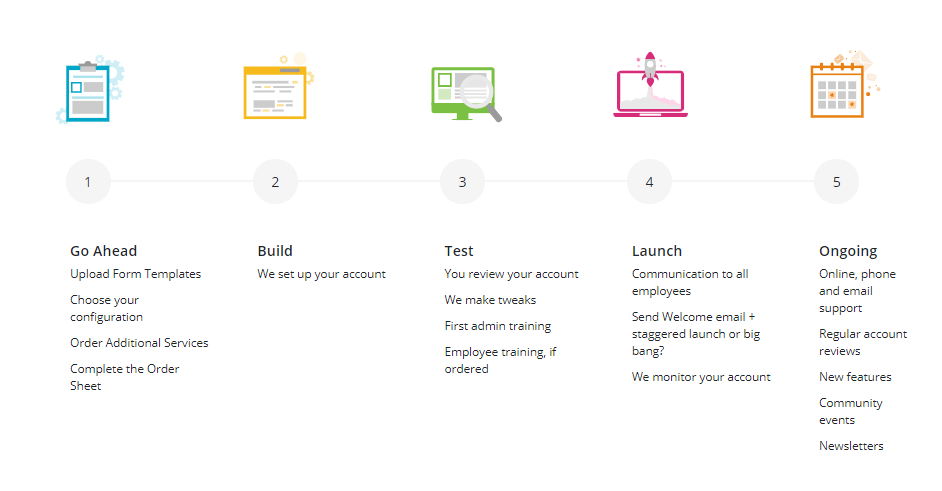 Enterprise clients
For larger, enterprise clients, the stages will follow a similar order but will usually also involve a certain amount of internal stakeholder engagement, approval, UAT and so on.
In consultation with you, we will establish:
How the components of Appraisd should be configured to suit your way of doing things: review forms, objectives, personal development and coaching plans, feedback
How and when reviews and check-ins will take place, in what format, and how this varies across the organisation
Who administrators are, in which regions, and how they will be assigned and trained
How people data will be synced with your HR database - using our API, Excel spreadsheet import etc.
Technical requirements such as single sign-on
Any employee training requirements / videos to be produced
Any multi-language requirements
Timing
Use these timings as a rough guide. The biggest factors involved in timing are the client's internal processes and how quickly agreement can be reached, data can be produced and specifications are approved.
Initial demos, stakeholder buy-in, legal review and signed agreement, IT security review - 2 to 6 weeks
Account build and test based on agreed specifications - 2 weeks
Video production, if requested - 4 weeks
Internal client UAT if required - 2 weeks
Technical integration work, if required - 2-6 weeks
Employee communications and staggered roll-out - 1-2 weeks
In total, a typical organisation with 1,000 employees will take 2 months from go-ahead to launch.