Appraisd can help your organisation draw up succession plans, identify areas of personnel-related risk and ensure you don't miss opportunities to develop your talent.
Appraisd does this by gathering the assessment and opinion of each employee's manager from time to time using its Reviews feature. The steps involved are as follows.
Create your talent profile questionnaire
Conduct the reviews
Report on the results and act.
1. Create your talent profile questionnaire
Is there a natural point in the year - such as a year-end review - when managers can assess employee's talent profile? If so, you can combine the talent profile questionnaire with the rest of the form.
Otherwise, create a form specifically for talent profiles. Here's an example - you can find this example in your form designer: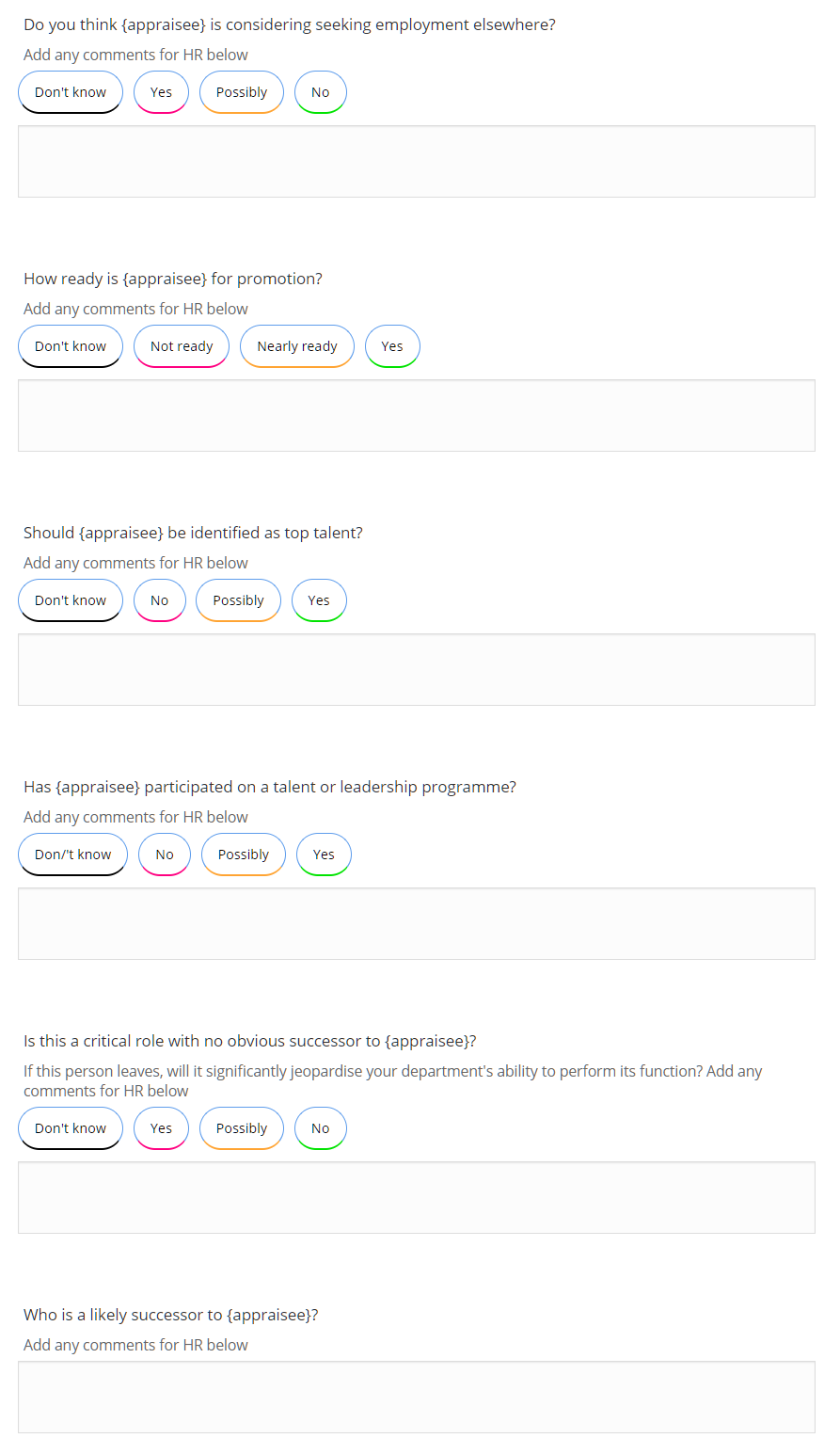 You can also add a 9-box grid like this, with your own labels and descriptions: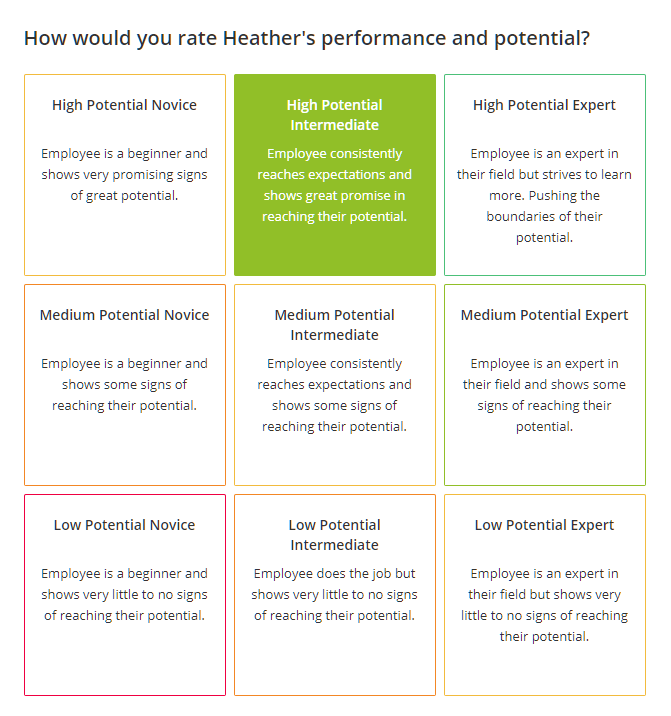 To do this, you'll need to select the Grid Only question type in Form Design. This will automatically create the example grid above but if you'd like to customise it, you can select the Show advanced editing options such as privacy and special components? tick box at the top of your form to edit the JSON.

When adding this questionnaire, ensure that the visibility of all questions and the section as a whole is marked as Manager-only (not visible to the appraisee).
2. Conduct the reviews
If you're using this questionnaire within a year-end review, then continue with the reviews as normal.
If you'd prefer to run a talent review separately, then:
Ensure hidden reviews are enabled on your account - if you would like this setting to be enabled please contact us
Ensure the 2-step manager only workflow is also enabled. This workflow does not require the employee to submit a self assessment.
Set up the reviews in bulk ensuring that you select the Hidden from appraisee option and using the 2-step manager workflow.
Use the Reviews and Metrics reports to monitor progress and to identify incomplete talent profiles.
Note that the talent reviews will remain on the employee's profile, visible to moderators, line managers and above like any other review. If the review is hidden from the employee, the employee will not see it when they log in and will receive no email alerts about it.
3. Report on the results
Use the Scores and Comments report to filter and extract information on the various questions in the form, for example: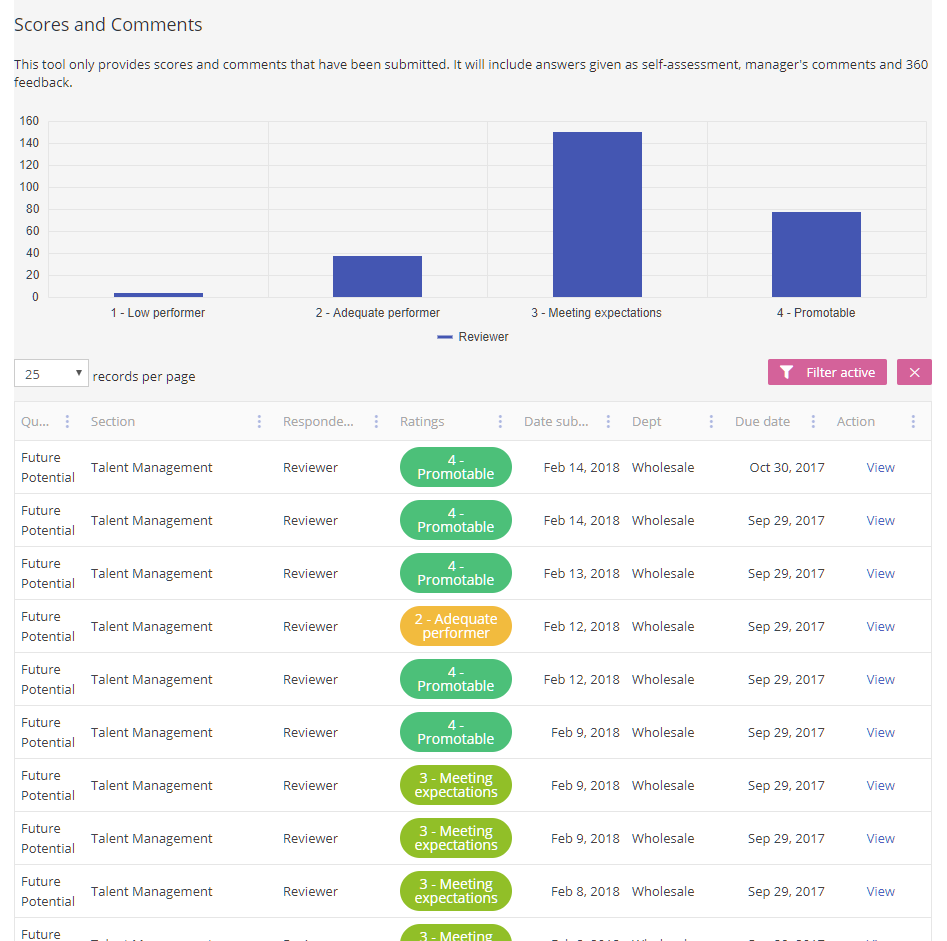 We can create custom queries for you that show specific charts such as:
Over-reliance on an individual - Number of times an individual has been nominated as a successor for someone else by different managers
People who have been identified as ready for promotion now
People who have been denoted as requiring a performance improvement
People who'd be interested in relocating to different offices, the demand for different offices
People who have no likely successor but who have a high impact of departure
Please also refer to Reporting on review comments and ratings