You can add multiple reviews at one time using our bulk adding tool.
Go to the Reviews tab of the Administration centre. Then click on Add reviews in bulk.
A new page will load, go through each section in order:
1. Any problems with your account?
Use this to check that all your People data is in order before you add reviews in bulk.
2. People you cannot add a review for

By default, Appraisd will prevent you from creating multiple simultaneous reviews. Clicking on Show me a list will reveal the reviews that are currently in progress.
You can choose to add these individuals to the section below if you want to override this behaviour by clicking on Allow multiple reviews in progress.
3. People you can set up a review for

Click Show me a list, you can then use the filter before selecting the people you'd like to create a review for.
If you have more than 25 employees and want to set reviews up for everyone, you will need to show All records per page under Show me a list before selecting everyone.
4. Review details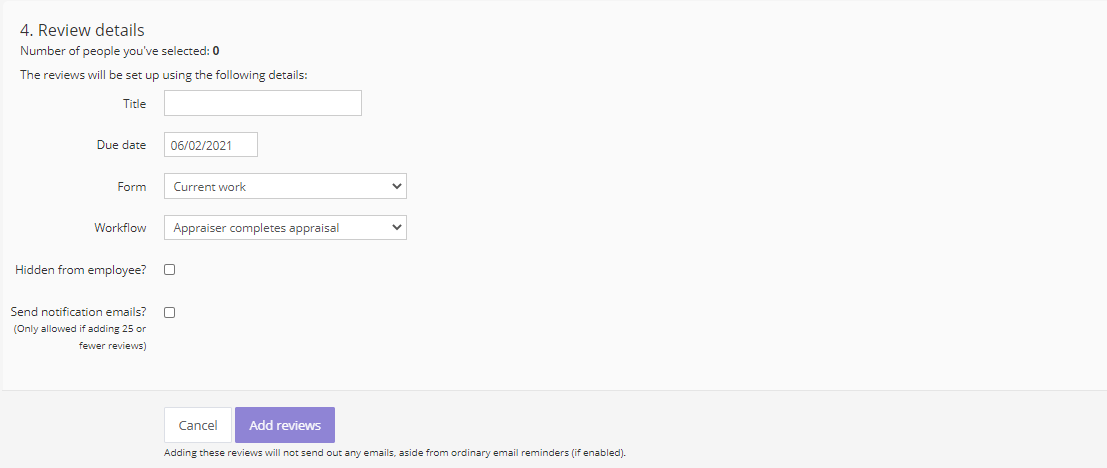 Specify the details of the reviews that should be created and click Add reviews.
Adding reviews in this way will not send out emails, aside from ordinary email reminders (if enabled in Configuration).
Setting reviews up in bulk will automatically assign the employees' default managers, second managers and sign-offs (if these are specified and used on your account) to the reviews regardless of what workflow you choose. The workflow determines who needs to take action on the review rather than who has visibility over it. If you need to remove anyone from the reviews, you can edit reviews in bulk afterwards.