Printing
You can print a review report at any time.
Navigate to the review report you wish to print.
Click the three dot icon at the top right and then Print.
Choose what should be on your print-out.
Press your browser's print button: — In Windows, press CTRL + P on your keyboard — On Mac OS press CMD + P

Saving as a PDF
Once the setting is turned on in Configuration (please email support@appraisd.com to enable), the option to Save as PDF will also appear under the three dot icon menu the top right of reviews.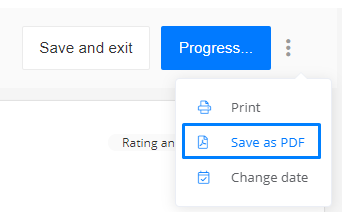 Note: This functionality is experimental and controlled by your browser so different browsers will format your reviews differently. If you find the text is overlapping, you may need to change the scaling on your browser pop-up. Usually, 70% works well in Chrome.