If you're using continuous feedback, you can embed an employee's feedback stream within their own reviews by adding a feedback stream question to the check-in form or review form.
This is a great feature to enable an employee and their reviewer to discuss feedback that's been received over the past few months.
The feedback stream automatically shows feedback received in the three months prior to the check-in or review date. It'll show any instant feedback received and any "feedback reviews" the employee created themselves during this time.
Here's an example of how it could be used on a 'Feedback' section of a check-in form - but you could use it in many other ways too: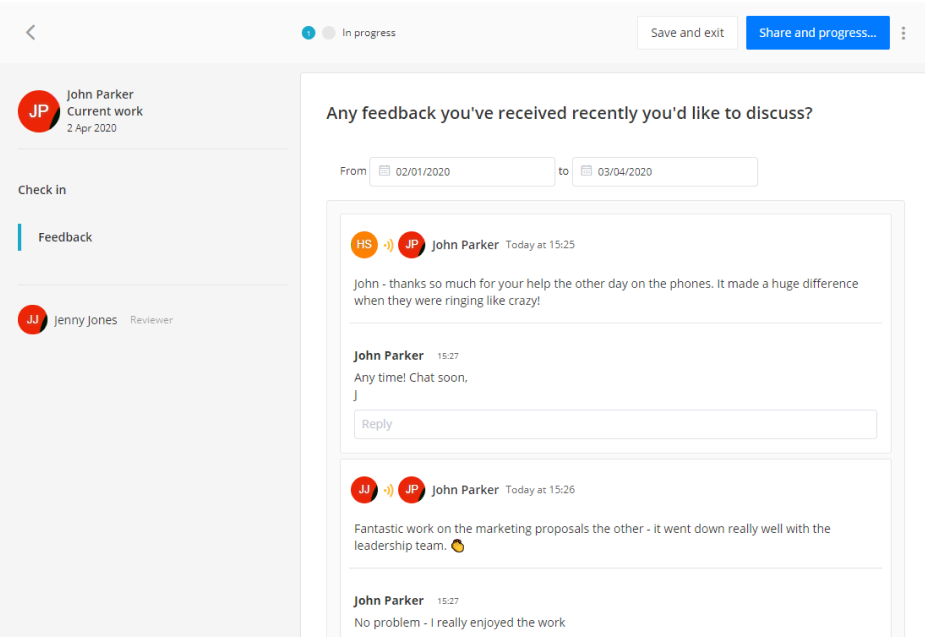 How to use this
Open the form you'd like to add the feedback stream to in Form Designer
Add a new question and choose the "Feedback stream" question type
Use advanced editing mode to specify that this component is not visible to people invited to give feedback, unless you'd specifically like feedback-givers to see the feedback they've given the employee recently and add to it.
The employee's feedback stream will now appear within the check-in that uses that form.
Note
The feedback stream will present to the current user as if they saw the stream from any other part of the system, such as the employee's Feedback tab on their profile. The feedback stream question does not change the visibility of any of the feedback and will always correctly adhere to the permissions of the current user.