Moderators can report on what objectives people are setting and how they are performing and progressing.
To run reports on what objectives have been set and what has been achieved, open the grey cog menu and select Administration centre then Reports tab and Objectives (other names include goals/actions/OKRs) from the drop-down menu.
A table will display all the objectives added to the system at all stages: draft, in-progress and complete. To gain insights and find trends you will need to use the Filter tool.
Filter guide
Here are some examples of the filters that you can apply to pull insights from the Objectives added to Appraisd:
Example 1
Find out what objectives have been completed or not
Example 2
Find out what objectives are overdue, you can apply this filter alongside custom people fields to see if there are any trends across different groups.
Example 3
Check what sort of objectives are being drafted and by who, are there any themes that can picked out for different groups?
Example 4
Search for objectives focused in a specific area to see who is working towards the same goals across the organisation, or find what employees have chosen predefined company or department objectives to focus on.
Example 5
Check what objectives have been set in different years or different financial quarters to get an indication of company health, ambition and strategy from the ground up.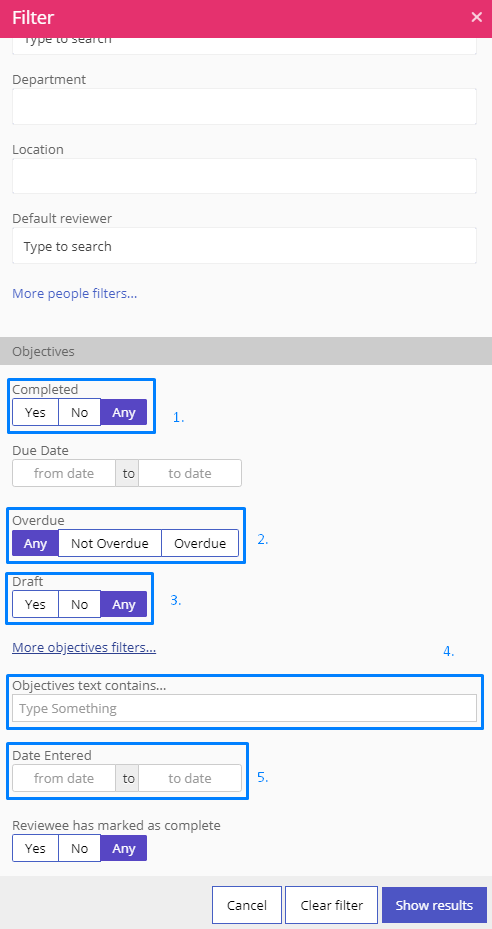 Other data sorting tips
You can click on any of the Results table headers to sort the filtered data by that header.
You can add and change the columns that appear in the Results table by clicking on the column settings menu (3 vertical dots in the header row in between columns)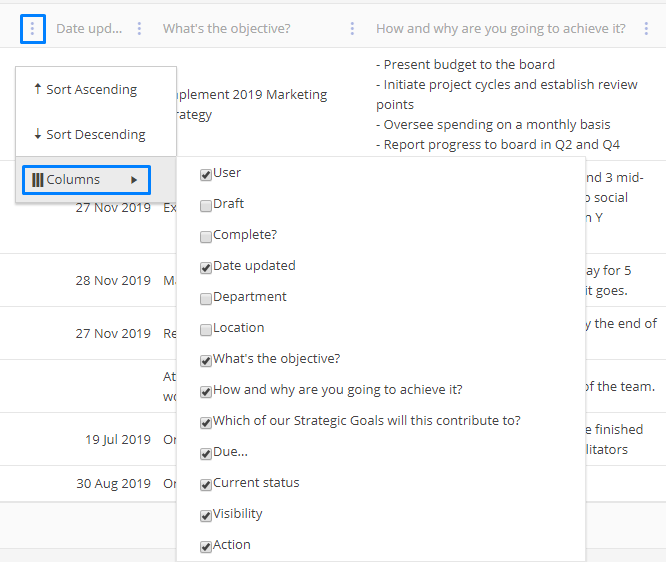 How to export your filtered data
If you scroll to the bottom of the Results table you can use one of the export options available at the bottom right of the page. You may do this if you want to further manipulate your data insights in Excel or you want a hard copy of your report.

NOTE: If you're a manager but not an admin, you can access this report from the your Team section.