The Appraisd Slack app brings performance management into the system your colleagues use every day.
Who can install the Slack app?
An Appraisd admin must install the app for Slack.
If you're an Appraisd admin, you can do this from the Configuration > Labs page in Appraisd.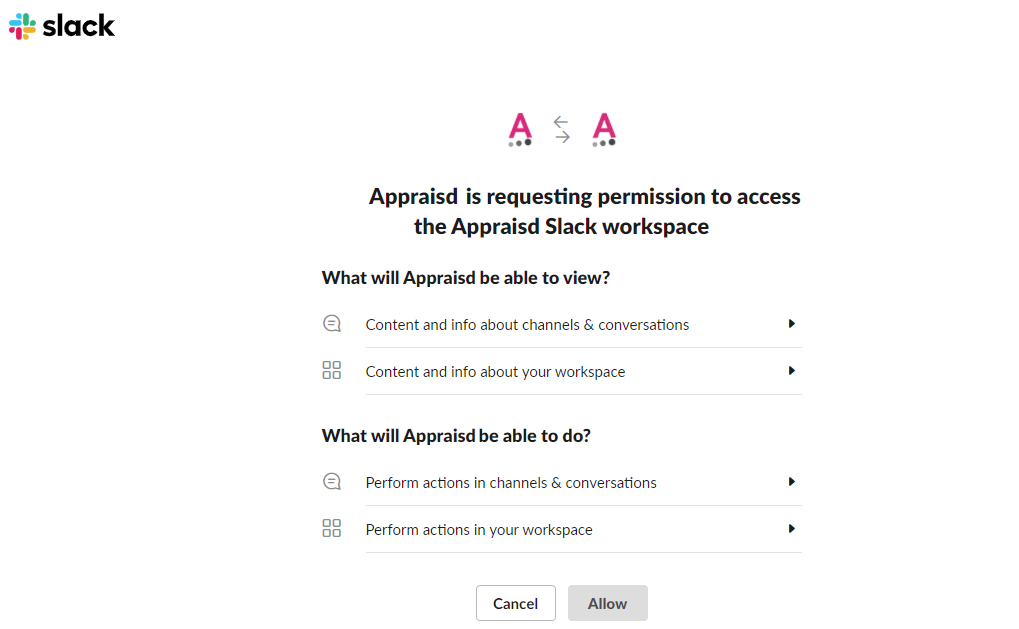 If you're an Appraisd admin but you don't have permission to install apps on your Slack account, then Slack will usually ask you if you want to request permission from your Slack admins to install the app. Once approved, you can try installing it again.

Does everyone need to install the Slack app to use it?
Not necessarily. As the person who installed the Appraisd Slack app, you'll be given the chance to send everyone in your workspace a notification, letting them know that the Appraisd app has been installed and is ready.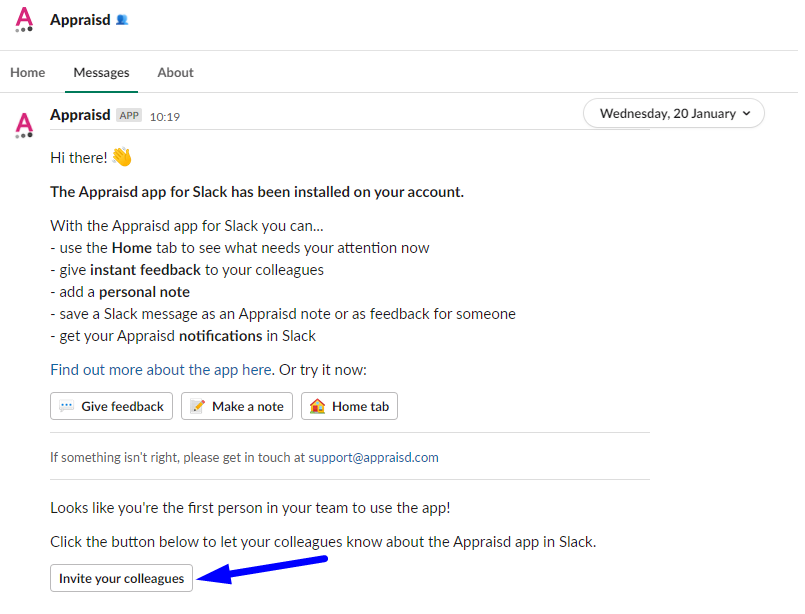 The app will only send this notification to people who have an account both in Appraisd and in Slack.
Once they receive the notification, they become "active" and can use all the features of the Appraisd Slack app. It will appear on their apps list on Slack navigation pane on the left.
A user also becomes "active" if they receive a notification another way, for example the notification that they've received some feedback in Appraisd or their manager has added a comment to one of their objectives. Like before, this user will now see Appraisd in their list of Slack apps.
Things to know
Slack isn't able to show only Appraisd users in the user-selection menu. If you try to give feedback to someone who isn't on Apppraisd you'll get an error message.
The email alerts from Appraisd will continue to be sent for all users regardless of whether they are using the Slack app or not.
If an Appraisd user is not on Slack, then they won't of course get the notification in Slack but they will get the usual email alerts from Appraisd.
You cannot add a Slack attachment (eg an image or file) to an Appraisd note or feedback. Slack rich-text formatting will also not be transferred to Appraisd.
If a user would prefer not to get the Slack notifications from Appraisd, they can mute the Appraisd app in Slack (insert screenshot/gif)
The Appraisd Slack app is currently only available in English
The app currently relies on users having the same email address registered in Appraisd as in Slack
If you uninstall the Appraisd Slack app, it doesn't uninstall it for other users. If you'd like us to remove Slack registration for all users, let us know.
Future development
Showing more information about your team
Replying to instant feedback
Adding a progress update to your/your team members' objectives