Objectives can be created at any time by an employee, their managers or other senior people. Depending on your account settings an employee may be limited to suggesting objectives as a draft, to be confirmed by their manager at a later time.
To get started, click Set up a new objective at the top right of the Objectives page.

Complete the form. Here's an example of a standard objectives template: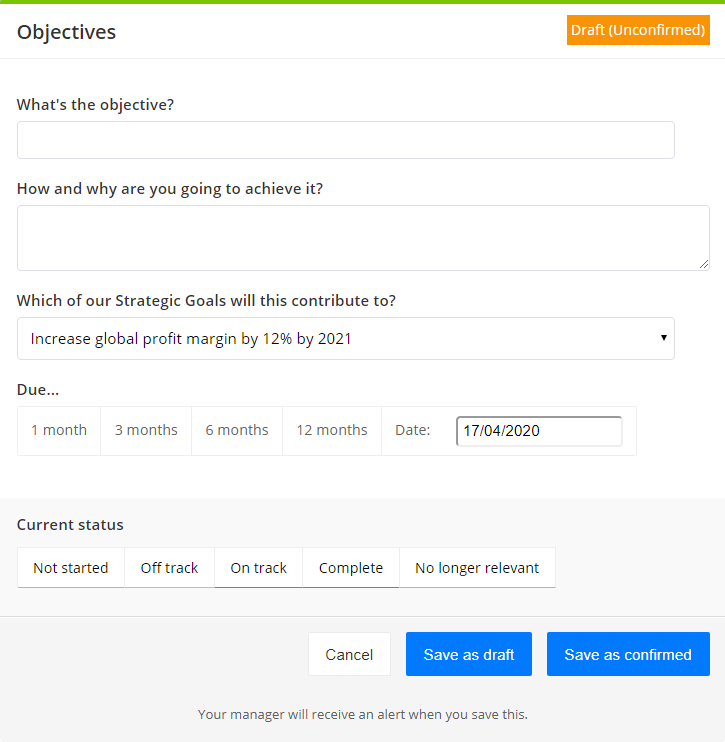 Save as draft – choose this if the objective hasn't been agreed between the line manager and employee. It will remain editable, to be confirmed at a later date.
Save as confirmed – choose this if the objective has been agreed between the line manager and reviewee.
Once an objective is confirmed, it cannot be modified by the employee. Only the line manager and other senior people can modify the objective.
The due date is used to tell Appraisd where the objective should appear in the review report (past objectives or objectives for the future) and to send automated email reminders.
In some configurations, when someone adds or updates an objective, the line manager (or the employee) will receive an email to let them know this has happened.
Similarly, in some configurations your HR or Learning & Development manager will be alerted that you added one to help them arrange training dates or assess budget requirements.