Moderators can close and edit objectives in bulk for managers and employees to help keep profiles and objectives up to date and relevant.
Enabling the option to edit Objectives in bulk on your account
If you are a Moderator you can enable a setting in Configuration that makes it possible to edit and close objectives in bulk for other people. Go to Configuration. Open the Objectives page and scroll to the bottom of the settings where you can enable Moderators can update objectives in bulk.

Updating and editing Objectives in bulk (Moderators only)
1. Once you have enabled this setting, exit Configuration and go to the Administration Centre, click on the Reports tab and select the Objectives report.

2. You can use the Filter tool to find the objectives of a particular person or team.
3. Once you have the list of objectives you want to update, you can choose to select all in the list using the checkbox in the table header, or select specific objectives using the check box in each row.
When you are happy with your selections click on the Edit button.
4. You will be given a choice of updates that can be made, select the update you need to make from the drop-down.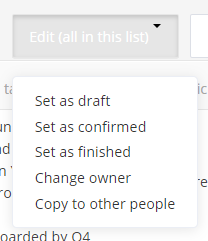 5. If you select one of the first three options, you will be asked to click OK to confirm that you want to make the update.

6. If you select Change owner, you will be asked to select the new owner from the drop-down menu. This won't copy the objective but instead reassign it (with the same content and due date) to another user.

7. If you select Copy to other people, you will be asked to select who you'd like to copy it to from the drop-down menu, whether you would like it be draft or confirmed and what you would like the due date to be. If you haven't set the objective up yet, you will need to add it for someone before you're able to bulk copy it. Please see the help page on how to add an objective.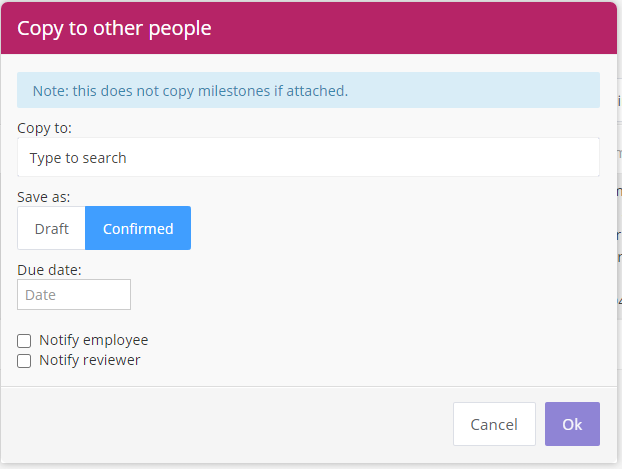 Top Tip: If you need to copy the same objective to multiple people at once or to your entire organisation, you can copy and paste a list of email addresses into this box instead of individually selecting all their names.
You can use this tool on any objective or goal type that you have enabled on your account, just open the report for the type of objective you want to make updates to.