We can configure your Appraisd account to allow objectives to be connected together in a cascading (top down) or contributing (bottom up or sideways) approach.
Why connect objectives together?
Most of our work contributes in one way or another to a larger objective, perhaps a team or company objective. Helping employees link contributing objectives to larger objective often has a number of benefits:
It shows employees that their work is valuable and will help to achieve your organisation's aims.
It helps senior leaders see who is contributing to which objectives, and how.
When used in Appraisd, it enables communication and a stronger sense of progress
Contributing objectives are an important aspect of modern frameworks such as OKRs and V2MOMs.
How do contributing objectives work in Appraisd?
For example, take this shared objective added by Nicky: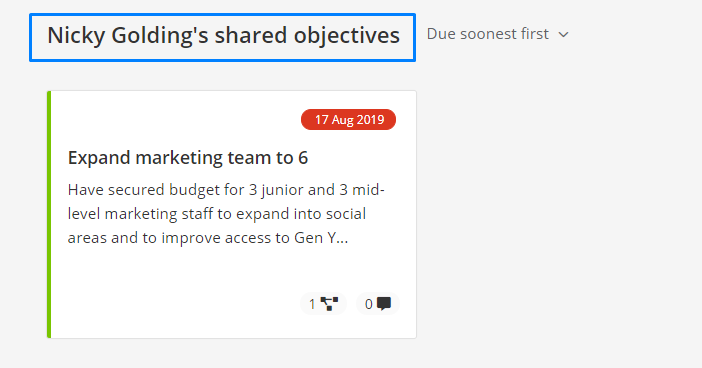 Now, when another employee find Nicky's profile and clicks on this objective, they can choose to 'contribute' to it: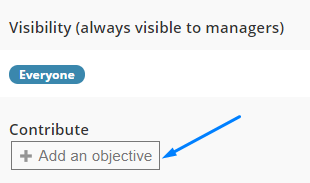 In this example, the account has been configured to allow employees to contribute their own Team objective, or they can connect a personal objective to 's objective.
Once people start adding contributing objectives, Nicky's objective is updated in Appraisd as seen below: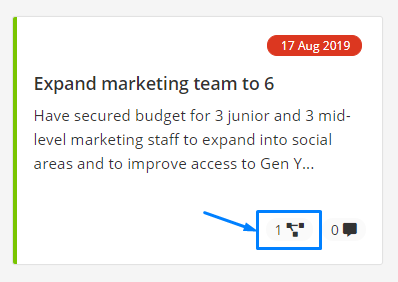 And on the objective popup, you can see a list of all the contributing objectives:

Note that you can click on a contributing objective to open it in a new popup. In this way you can navigate across all linked objectives to understand who's contributing to what, and how.
If you'd like to enable this on your account, please contact the Customer Success team on support@appraisd.com